Asteroids RX
Comments
Log in with itch.io to leave a comment.
Dragon32 emulated via Xroar using .vdk:
At around 28k, I experienced some funky business going on with, apparent, invisible asteroids. I'd clear the screen but wouldn't advance to next level. Firing blind, I'm able to hit something, I see explosions, but no asteroids. A few mystery hits and then I can advance.
https://www.twitch.tv/videos/1873140906?t=00h35m26s
thanks, I've passed this on to the guy who converted the game to see if we can fix it.
I have a Coco3 with 512K RAM upgrade. The game doesn't work on my system. When I hit fire, the asteroids are frozen and duplicated. No bullets come out.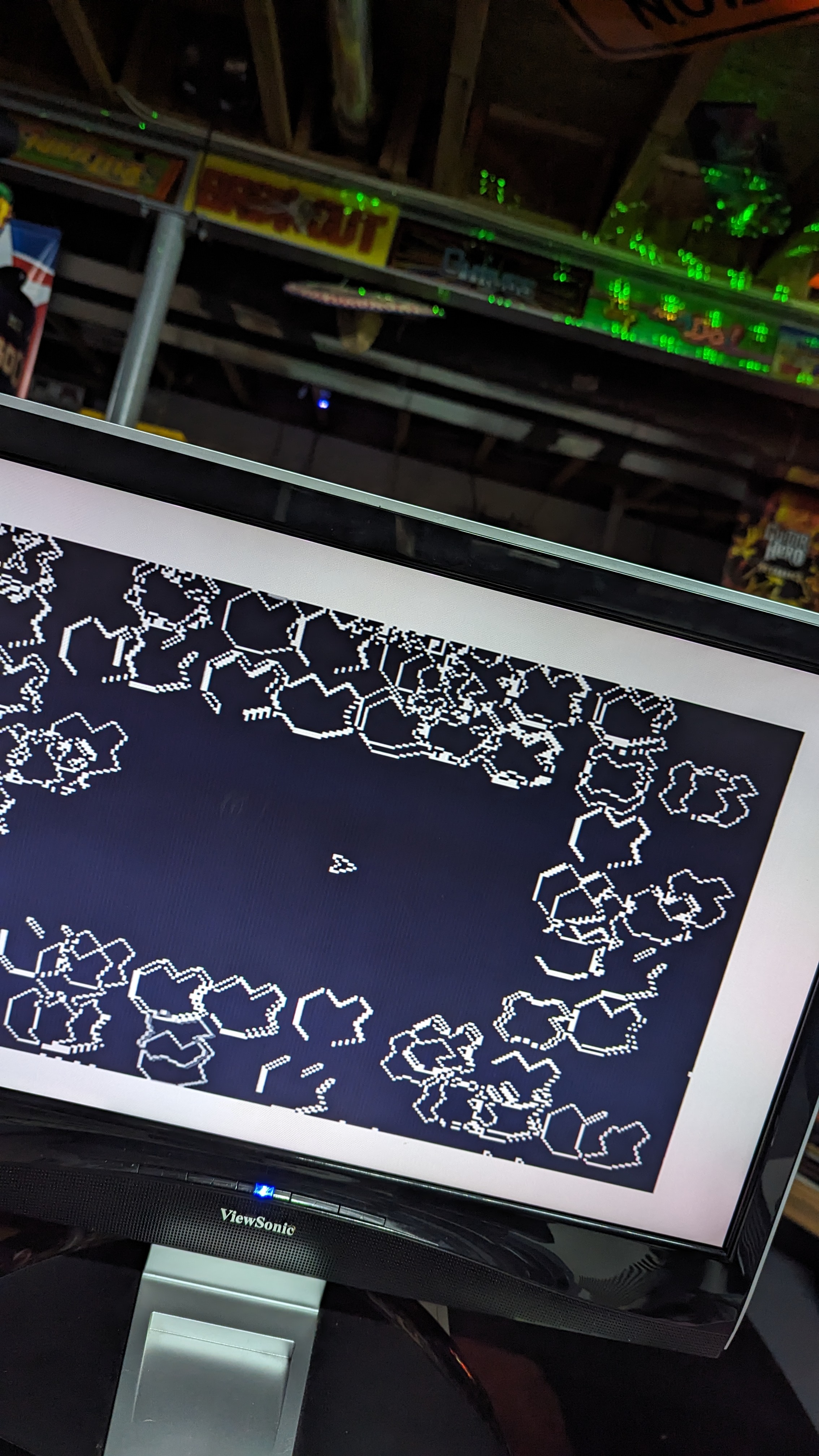 I'll look into this and let you know
Hi there - Pere, who did the conversion, said this:


using XRoar, after loading the .DSK disk and entering the command
LOADM"AST38T9H":EXEC

I can play without issues as many times as I have tried this version ... I have tested with 128K and also with 512K expansion
both in PAL and NTSC video outputs
Maybe he could tell us more about the problem ?
I mean, is he using an MPI while playing? or maybe other peripherals?
I've experienced the same issue with my Coco 3 (NTSC), 512k RAM. Loading the .DSK from a CoCoSDC and outputting via composite. There is also some text issues at the bottom of the title screen. Here is a vid:
Thanks for the video, and for being patient - I've passed this on to Pere and hopefully we'll fix it soon!
Excellent project! Please make sure to include the CoCo DSK image in your bundle. I only saw the VDK for the Dragon. Thank you!
Just wanted to say congrats on an awesome version of one of my favourite arcade classics.

Really done justice to it on both the classic Spectrums as well as the Next.

I covered it in a recent video (jump to 3:16):
The definitive Spectrum version of Asteroids IMO. Thank you!
thanks! That was my aim when I started.
sam Coupé with external 1mb ram you get full 6mhz 128 colours and 16 on screen anywhere 4bits per pixel give it a go !
Looking to review this for CRASH magazine. Are you able to sent a review copy?
Hi, Highriser. Greetings from ZX Spectrum Star if you wish I can publish a game play of your game. It would be my pleasure to support you. Congratulations for your version is really awesome.
zxspectrumstar@gmail.com